R&R Part 2 – Nairobi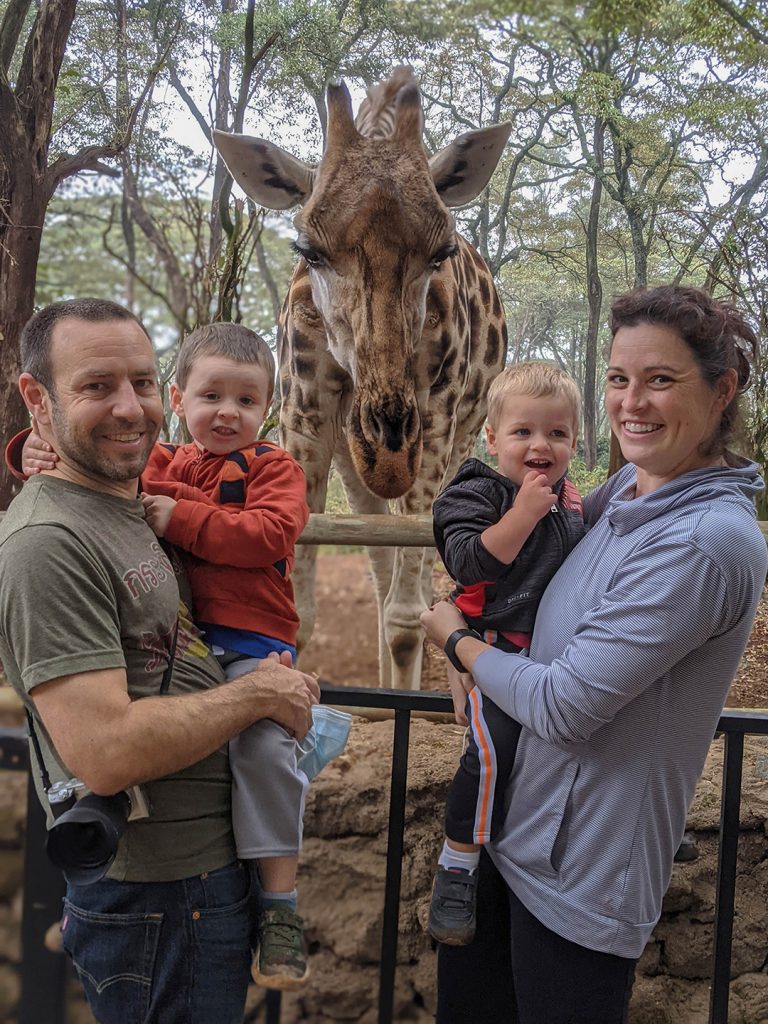 6-13 August, 2021
We stayed in Nairobi for two nights before we flew to the Maasai Mara, and then stayed in Nairobi another week after we returned from House in the Wild. Nairobi is a fairly large city, but we stayed well outside the city center, in the south west in an area called Langata. Very quiet, very green, lots of space for the boys to run around. And walking distance from the Giraffe Center. It was a bit of a shock to the boys when we could hear monkeys and bush babies screaming just outside the windows at night. I learned something new on this trip, bush babies might look super cute, but they sound like screaming children.
When we learned that we got a posting in Abu Dhabi, my friend Matt at work learned at the same time that he and his family had got a post in Nairobi. So of course we had to plan a visit. It's only around a 4 hour flight. When we first arrived Matt suggested that we do a drive through of the national park, because it's like a mini safari. Which we did, and really enjoyed. It helped to prepare the boys for day drives while at House in the Wild. But mostly, we spent our time enjoying the outdoor space. The weather in Nairobi is excellent, though coming from Abu Dhabi it did feel a bit chilly. There are plenty of large parks to hike through, with waterfalls, and wildlife. As we were hiking one of the parks we saw signs for a cave, so we went to explore that. The two BnBs we stayed in were both walking distance from the Giraffe Center, which we visited twice because you can feed and pet a giraffe! Had to do that, Gabe has a giraffe lovey, so we had to let him get up close with the real thing. Eventually we met up with Matt and his family for dinner at a very nice secluded restaurant with a playground for the kids.
Overall Nairobi reminds me of much of city life anywhere in Africa. It's a large, modern city with skyscrapers, a downtown, restaurants, all manner of commerce, but also significant, abject poverty. Driving through those areas was eye-opening. Despite the poverty, the wares being sold on the side of the street, namely the furniture, the craftsmanship was spectacular. If I could say I'd have felt safe there with my wife and two small children, I'd have stopped to browse, but I couldn't. So we browsed from the taxi window.
We met Matt again for dinner at his house the day before we departed to catch up some more, let the kids play, and thank them for the pile of recommendations they gave us. Next up, off to Zanzibar!