Tbilisi, Georgia (and Kazbegi)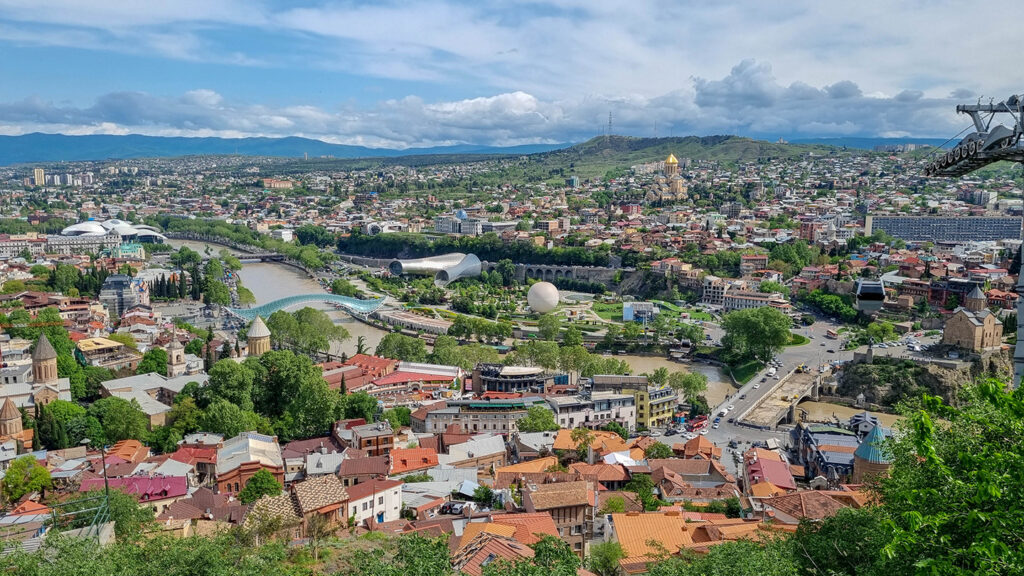 May 01 – 08, 2022
With a week off for Eid, and six daily flights from Dubai, Tbilisi was an obvious holiday choice. Georgia is cheap, flights were cheap, and accommodations were cheap, all the more reason to visit. I have a friend posted to Tbilisi, and our friend Emily (who we know from our time in Warsaw) lived there for some time as well, so we had a nice laundry list of recommendations. The weather was a bit overcast, and most days forecast drizzle, but we had a few moments of sunshine. And besides, it never rains in Abu Dhabi, so it was kind of nice to be out in the rain.
We hit almost all of the highlights on our list, but never made it to the west side of the river, so missed the Holy Trinity Church, and Fabrika, the old communist sewing factory turned hip hostel and coffee shop. On day one, as we usually do when on vacation, we did a walking tour. Helps get your bearings, and you get a good dose of history while at it. We spent most days wandering around the city, enjoying the wine and the heavy food. Khachapuri, which is a baked boat shaped dough container filled with Georgian goat cheese and a cracked egg, is absolutely delicious and is not to be missed if you visit.
One drizzly and overcast day we joined a bus trip to Kazbegi, the mountainous area in Georgia's north, just 7km from the Russian border. The weather wasn't terribly cooperative that day, but we got a few cracks of sunshine when we stopped at Zhinvali Water Reservoir. We also stopped at Ananuri fortress castle, the Aragvi River in Pasanauri where two rivers of different colors merge but don't mix, and the Russia-Georgia Friendship Monument, before reaching our destination of Kazbegi. It was pretty overcast, but I tried to do the scenery justice. The road through this adventure was the Georgian Military Highway, which winds through the Caucasus, and is the only crossing from Georgia to Russia. Because of Russia's delays in paperwork processing, there was an unbroken line of delivery trucks 70 miles long waiting to cross the border.
All in all, Georgia was great. The boys had a blast and complained when it came time to leave. If we can swing it before we depart Abu Dhabi for our next posting, I'd definitely visit again.